The LaPorte County MS4 Partnership is a cooperative effort of several local governmental entities to improve water quality by reducing the amount of storm water run-off and reducing the pollutants contained in the run-off. The entities represented in the Partnership are: The City of LaPorte, LaPorte County, The City of Michigan City, The Town of Trail Creek and The Town of Long Beach. Each entity appoints a representative to the Committee.
Current representatives are:

Mr. Mike Polan, Chairman
LaPorte County Drainage Board
11555 Michigan Ave. Suite #104
LaPorte, IN 46350
219-326-6808 Ext. 2544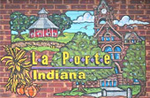 Mr. Jerry Jackson, Operator
Wastewater Department
City of LaPorte
2101 Boyd Blvd.
LaPorte, IN 46350
219-362-2354

Ms. Kate Doyle, Member
Town of Trail Creek
2322 E. Michigan Blvd.
Michigan City, IN 46360
219-872-2221
Mr. Tom Dolph, Member
Town of Long Beach
Town Hall
2400 Oriole Trail
Long Beach, IN 46360
219-874-6616
These entities have been identified by the Indiana Department of Environmental Management (IDEM) as "urbanized" areas. These urbanized areas are regulated by the Clean Water Act of 1972. In Indiana, these areas are known as "MS4" (Municipal Separate Storm Sewer Systems) areas and are regulated under Rule 13. MS4s are defined as a conveyance or system of conveyances owned by a state, city, town, or other public entity that discharges to waters of the United States and is designed or used for collecting or conveying storm water. Regulated conveyance systems include roads with drains, municipal streets, catch basins, curbs, gutters, storm drains, piping, channels, ditches, tunnels and conduits. It does not include combined sewer overflows and publicly owned treatment works.
MS4 conveyances within urbanized areas have one of the greatest potentials for polluted storm water runoff. The Federal Register Final Rule explains the reason as: "urbanization alters the natural infiltration capacity of the land and generates…pollutants…causing an increase in storm water runoff volumes and pollutant loadings." Based on increased population and proportionally higher pollutant sources, urbanization results "in a greater concentration of pollutants that can be mobilized by, or disposed into, storm water discharges."
You can read more about Rule 13 in Indiana by clicking this link: http://www.in.gov/idem/4900.htm
In addition to the representatives from each entity, the LaPorte County MS4 Partnership has a Coordinator. Our MS4 Coordinator is Mr. Rick Brown. Our Coordinator is responsible for ensuring that all requirements of the Partnership's permit are being met, that all land-disturbing activities in the County are following appropriate procedures and to investigate storm water related complaints. Additionally, the LaPorte County Soil and Water Conservation District assists the Partnership and the Coordinator in providing education, outreach and public involvement.
Not only does the Clean Water Act serve to make all waters fishable and swimmable, but it lays out six Minimum Control Measures (MCM's) that governmental entities are required to put into place. These MCM's are:
Public Education and Outreach (Educate the public about water quality and how to prevent stormwater pollution.)
Public Participation and Involvement (Get the public involved in water quality monitoring, storm drain marking, and other activities that get people in touch with their waterways.)
Construction Site Runoff Control (Put measures in place to prevent sediment and other pollutants from leaving construction sites and entering waterways.)
Post-Construction Runoff Control (Put water quality requirements in place for new development and redevelopment projects, and find ways to maintain stormwater structures and practices.)
Illicit Discharge Detection and Elimination (Identify and eliminate pollution that is coming from drainage tiles, floor drains, failing septic systems, and any other illegal discharges into our storm sewers or ditches.)
Good Housekeeping and Pollution Prevention (Improve government operations to prevent stormwater pollution.)