Welcome to The LaPorte County MS4 Partnership!
Welcome to the Official web site for the LaPorte County MS4 Partnership. This is a cooperative effort between LaPorte County Government, The City of La Porte, Town of Long Beach and Town of Trail Creek. The members of this partnership are committed to implementing programs and practices to improve the quality of the storm water that runs off the land and into our streams, rivers and lakes.
We all contribute to storm water run-off and we can all contribute to clean water

For home owners, our site will help you learn how to do your part for clean water.

For contractors, builders or developers, our site will direct you to the appropriate state forms and regulations.   It will also help you find information about specific best management practices you can implement to meet local, state and federal storm water requirements.

For everyone interested in storm water and its impacts, you will find general information.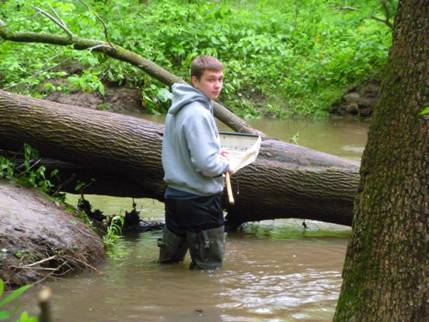 Dan Warnke, former Westville High School student samples aquatic
insects in Trail Creek to assess water quality
If you have further questions about storm water, this website, or specific program requirements after browsing this website, please contact Nicole Messacar or call 219-326-6808, ext. 2115
CLEAN WATER-THAT'S OUR GOAL!
Did you know?  Each time a rain fall event occurs, pollutants are washed into storm drains and ditches. Pollutants like bacteria, sediment, oil, fertilizers, pesticides, animal wastes and others are then drained directly into our local streams, rivers, lakes and wetlands, untreated. These pollutants can cause many problems, from algae blooms to fish kills to unsafe drinking water. This polluted storm water is much more difficult to treat than "point sources" of pollution because it comes from many sources. (Point sources of pollution are sources of pollution that you can point to directly, such as those that come straight from a pipe.)  This is why pollution prevention education for all land users is so important to the LaPorte County MS4 Partnership.
The Clean Water Act of 1972 established basic structures for regulating discharges of pollutants into the waters of the United States and regulating the quality of our surface waters. This Act addressed point sources of pollution and has made strides toward water quality.  The CWA strives to make all waters "fishable and swimmable".
However, many of our water ways are still listed as "impaired" and not "fishable or swimmable". Segments of Trail Creek, the Galena River and the Kankakee River appear on the Impaired Waterways list by the Indiana Department of Environmental Management (IDEM).
More can be done to protect these waterways. That is why LaPorte County MS4  Partnership is working hard to make sure people are aware of the pollutants contained in run off from roads, parking lots, rooftops and other areas.