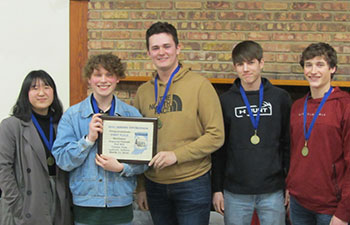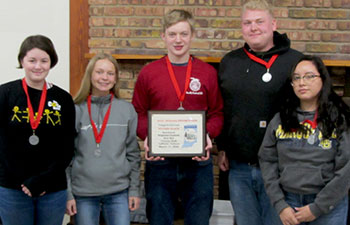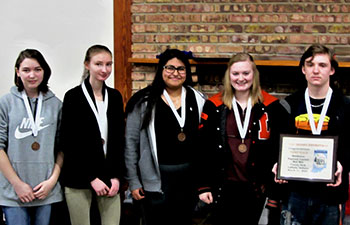 (From left to right – First Place, Second Place and Third Place)
The Indiana Envirothon is a competitive learning event for high school aged students. It is open not only to school groups but scouting groups, FFA's, Green Teams, 4-H groups,  home-schoolers, and more.  Envirothon tests students' knowledge on a variety of topics including soils, forestry, wildlife, aquatics and current environmental issues.
Envirothon raises environmental awareness and prepares tomorrow's leaders to deal with the consequences of human activity on our environment.
At the national level, students compete for over $100,000 in scholarships. Please visit www.envirothon.org for additional information about the national competition.
---
Fifth Grade Conservation Field Days-This all-day program, held every year at Luhr County Park in June, is a collaboration with many LaPorte County Conservation Agencies. It is open to all fifth grades in the County, including charter, private and home school groups. Students rotate through seven conservation related stations.
Trail Creek Week/Kankakee River Days- These place-based environmental education programs, targeted at 4th grade, take place outside on the banks of a local river. Students attend four stations facilitated by local professionals on the subjects of invasive species, water quality, wildlife and various conservation topics and then paddle in a 24-foot Voyageur canoe on their local river. Registration is available in the fall. This year's dates are:
Trail Creek Week: September 21-25, 2020 at Hansen Park in Michigan City
Kankakee River Days @ Kingsbury Fish & Wildlife Area: September 28-October 2, 2020
Kankakee River Days @ Grand Kankakee Marsh Co. Park in Hebron: October 5-9, 2020
Michigan City High School Wolves Environmental Restoration Team-We work with students and teachers at Michigan City High School to provide ecological restoration services to the Michigan City Parks Department. Our team removes invasive plants and plants native species, picks up trash, monitors water quality and performs other various tasks as required. If your school is interested in building a similar team, please reach out to us.
4H Soil and Water Science Project-We serve as the project superintendent for the 4H Soil and Water Science Project. The soil and water science project teaches youth about soil, water, and environmental stewardship. Learn about soil and water quality, how they interact, and how we can protect and preserve them. Check the 4-H Handbook for complete exhibit details. Please contact us if your Club would like a presentation or workshop.
---
4-H Soil and Water
The project offers many activities from performing a worm census to interviewing conservation professionals — and everything in between! If you are interested in more information about this project, or would like someone to come talk to your club about it, please contact Nicole Messacar at the SWCD Office. Our number is 219-326-6808, ext. 2115 or by e-mail at nmessacar@laportecounty.org. You can also contact the Purdue Cooperative Extension Office at 219-324-9407.