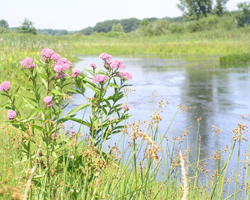 Chris Havens, District Administration Manager
chavens@laporteco.in.gov
Chris is a lifelong resident of La Porte County, and is a graduate of Indiana University.  He is responsible for leading the daily office operations of the District, as well as assisting in the community during various District events and programs.  Chris lives in La Porte with his wife and 2 boys.
Nicole Messacar, Education Coordinator  
nmessacar@laporteco.in.gov
Nicole has been the Education Coordinator for the LaPorte County SWCD since January of 2007. She has a Bachelor of Science from Indiana University with a major in Environmental Management and minor in Geography. She lives in LaPorte with her husband and three children. She was named IWF 2012 Conservation Education of the Year (for more information click here).  Currently, Nicole is coordinating the District's watershed planning efforts in the Trail Creek watershed. She is also working in schools throughout the county on various conservation programs.
Michael Herrman, Soil Conservationist
mherrman@laporteco.in.gov
Michael is a recent graduate from Indiana University, holding a Bachelor of science in biology with a minor in chemistry, and is a lifelong resident of Northern Indiana. It's his responsibility to provide technical assistance to landowners with natural resource concerns, and to promote healthy waters and productive lands in our county. He is excited and looking forward to helping our community conserve our natural resources.
---
Partner Staff
Randall Dickson
NRCS District Conservationist
randall.dickson@in.usda.gov
Rick Brown
MS4 Coordinator
rbrown@laportecounty.org