Your Views on Local Water Resources – Survey
The Natural Resources Conservation Service, the LaPorte County Soil and Water Conservation District, and Purdue University are conducting this survey in order to identify the needs and concerns in your community regarding water quality for the Little Calumet-Galien Watershed.
You should have received this letter in the mail. Hard copies of the survey will be mailed out soon. For more information about the Natural Resources Conservation Service, please contact Theresa Wojkovich at Theresa.Wojkovich@in.usda.gov or at (219) 324-6303. For information regarding the survey, please contact Linda Prokopy at lprokopy@purdue.edu or at (765) 494-0825. Final survey results will be posted at www.iaswcd.org/icp/survey.html and will be available March 2012. Thank you in advance for your help!
Click here to view PDF of letter.
---
LaPorte County SWCD Receives Lake and River Enhancement Grant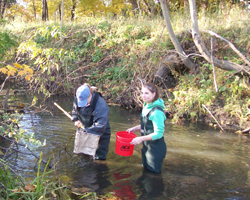 The LaPorte County SWCD has received a grant from the Lake and River Enhancement (LARE) program in the amount of $29,700. The grant will be used to complete a Diagnostic Study in the Galena River Watershed.
The project is intended to complement a similar study that was previously completed for downstream areas of the watershed in Berrien County, Michigan. The entire watershed across both states is 112,222 acres in size. The total size of the current project area within the State of Indiana (LaPorte and St. Joseph counties) is approximately 29,000 acres.
The purposes of the project are to:
Describe condition and trends in selected stream(s) and its (their) watershed(s)
Identify potential nonpoint source water quality problems
Prioritize potential watershed land treatment projects
Propose specific direction for future work
Predict and assess success factors for meeting water quality goals
Meet funding eligibility requirements for IDNR LARE, IDEM Section 319, and the Lake Michigan Coastal Nonpoint Pollution Control Program.
---
Resources
Galena River Watershed Management Plan
Second Stakeholder Meeting
May 13, 2010
(PDF)
Galena River Watershed Management Plan
Fifth Steering Committee Meeting
November 5, 2009
(PDF)
August Meeting TMDL Summary
(PDF)
Galena River Watershed Management Plan
First Kickoff Stakeholder Meeting
June 3, 2009
(PDF)
Galena River Watershed Management Plan
Second Steering Committee Meeting
July 1, 2009
(PDF)
Galena River Watershed Management Plan
Third Steering Committee Meeting
August 6, 2009
(PDF)
Galena River Watershed
Watershed Characteristics
(PDF)
Total Maximum Daily Load for Escherichia coli (E. coli) For the Galena River Watershed:
La Porte and St. Joseph Counties
July 13, 2009
(PDF)
Galena River Watershed Management Plan
Habitat & Macroinvertebrate Assessment
(PDF)